"Have you heard the rumors we have to move?"
Aline asks her colleagues the question that scares her the most – Have they heard the rumors the red light district has to move for World Cup? She says, "I'm afraid to even ask about it."
The prospect of moving a hundred brothels to a new location makes a lot of women working in Vila Mimosa nervous. Will they move somewhere far away and hard to get to? Somewhere more dangerous? Will business suffer, or could a move be a change for the better?
Aline's fears are not unfounded. Rio has a history of "cleaning up" its sex industry when tourists come to town that stretches back 100 years.
When King Albert of Belgium came to town in 1920, police rounded up the city's lower-class prostitutes, arrested them and moved them out of sight to the outskirts of the city, inadvertently forming Rio's first red light district. Police added walls around it in 1967 to hide it from the view of Queen Elizabeth II's procession through the city. The red light district was moved – twice – to make way for the city's "New City" administrative complex, first in the 1970's and again in 1995.
Now, with two months to go till the World Cup kickoff, the red light district is under threat of eviction for the fourth time in 100 years.
Only this time, an area that used to be on the city's margins finds itself in a prime location. Rio's red light district is currently hiding in plain sight, a block from the busy Praça da Bandeira; half a block from a major construction site for the metro expansion; one mile from the Maracana Stadium; a mile and a half from the multi-billion dollar Porto Maravilha port renovation project.
As Rio undergoes the biggest prostitution crackdown and brothel evictions in a generation in preparation for next year's World Cup and the 2016 Summer Olympics, rumors are swirling through Vila Mimosa that the red light district will have to move once again.
Some say the bullet train from Sao Paulo to Rio – a $20+bn project on pause at the moment – will terminate in Vila Mimosa. Others say a consumer package goods multinational is in negotiations with AMOCAVIM, the governing association of Vila Mimosa, to purchase the area. A proposal for an Audiovisual City to host TV productions, with studios and four movie theaters, is also destined for the same neighborhood.
Aline, for her part, wonders if the Zone will become a parking lot for the soccer stadium. Milena, a manager at the house Aline works, wants to know why they should move if the Mayor could instead invest resources in improving the area.
Keep watching: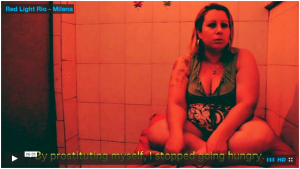 Milena is one of the first women I met in Vila Mimosa in January of 2012. She was working as a manager at the house Aline works as a prostitute. In this interview, she talks about what her job is like. (link)
Read on: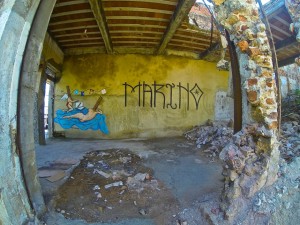 Vila Mimosa: An Eviction Timeline
Here is a timeline of Rio de Janeiro's red light districts, synthesizing the work of anthropologist Soraya Simões' 2010 Vila Mimosa: Scenographic Ethnography of Carioca Prostitution, and anthropologist Thaddeus Blanchette's From the Mangue to Vila Mimosa, 1922-2013. (link)